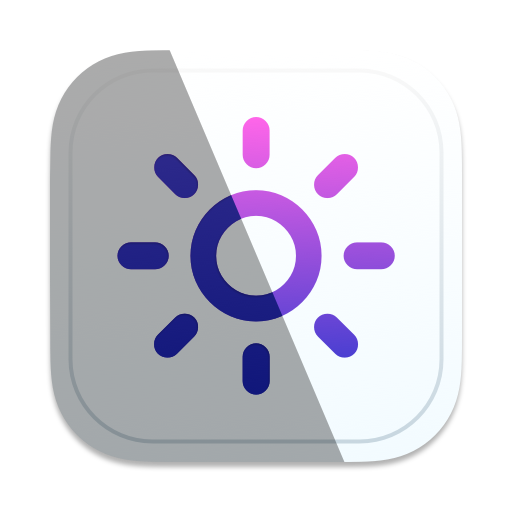 Unlock the extra brightness of Mac display
TotalXDR is a Mac menu bar app that doubles the brightness of your MacBook Pro display and keeps XDR/HDR brightness always on.
Requires macOS Monterey (12.0) or newer.
Loved by teams and individuals around the world
Features you'll love
Unlock peak brightness
TotalXDR doubles your MacBook Pro brightness to 1000 nits with the built-in XDR display. Perfect for outdoor use.
XDR / HDR always on
Just a simple switch to help you turn on the XDR / HDR extra brightness upscale and unlock the screen's full brightness system-wide.
Pro Display XDR support
Enjoy the full brightness and astonishing dynamic range in your best Retina 6K display!
Universal Mac app
TotalXDR is a Universal Mac app that runs natively on both Apple Silicon and Intel Macs.
Designed for Mac
TotalXDR is designed and built with Swift exclusively for Mac, and supports the latest macOS Monterey.
One-time purchase
One-time purchase with lifetime free updates. All further updates are free of charge, including the major versions.
14-day free trial
Get started with TotalXDR for macOS today
Native Universal Mac app. Small bundle size. 14-day fully functional free trial. Your Mac will love this app.
Frequently Asked Questions
Can I try before buying?
Yes. You can download the 14-day trial version and try for free without any limitations.
Which Mac devices are supported?
Macbook models: MacBook Pro 2021 (M1 Pro/M1 Max) and MacBook Pro 2023 (M2 Pro/M2 Max/M3 Pro/M3 Max). External displays: Pro Display XDR.
Can I use any Mac computer with Pro Display XDR?
Yes! TotalXDR is compatible with older Intel Macs that run macOS 12.0 or later, provided they are connected to a Pro Display XDR.
How does the licensing work?
We offer per-device licensing model, each license can be activated on one device only.
Can I transfer my license to a different Mac?
Yes. Before activating your license on the new Mac, please use our online License Manager to deactivate your old Macs.
How to add more devices to my license?
You can buy additional seats to your license using the License Manager.
Do I get free updates?
Yes. All future updates are free.
Who takes care of the purchase?
The entire purchase process is carried out by PayPal. You can pay with Credit Card without creating a PayPal account.
What's your refund policy?
If for any reason you're unhappy with your purchase within 30 days, please contact us to request a refund.